Rio Dulce, Guatemala, To Roatan, Honduras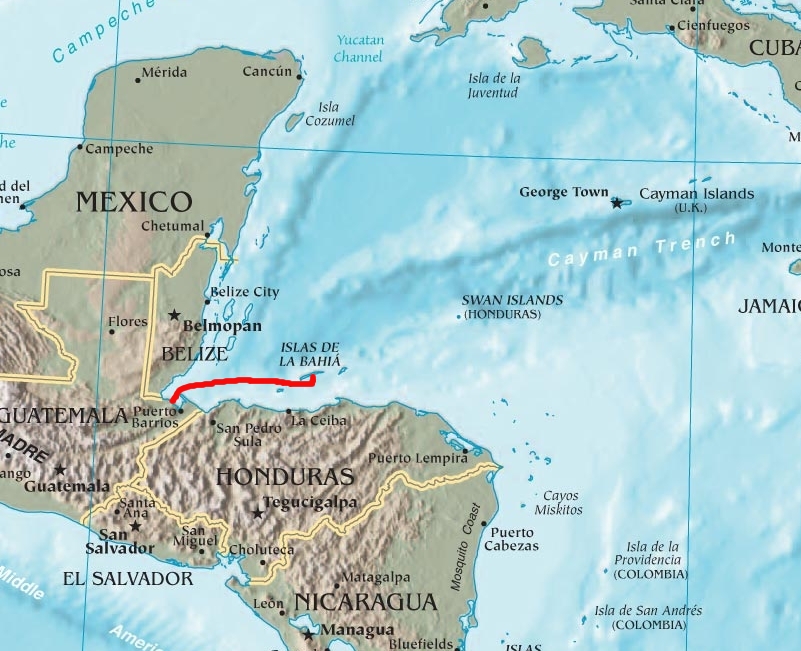 We left the dock at Monkey Bay Marina, Rio Dulce, Izabal, Guatemala, around 0900 on Monday, March 1st, and anchored about 30 feet away while we pulled up and secured the dinghy for the trip to Honduras. Our buddy boat, Tantalus, was meandering down the river, waiting for us to catch up. They were very happy campers as it has been three years since they could get their boat out sailing. This beautiful, sunny day seemed a good omen for us all. We motored down the river about ten miles to Texan Bay Marina where we docked for the night. Then we boarded a launcha to go to Livingston, Guatemala, where we could check out of the country. This was a lot easier (and safer) than taking the big boats down, anchoring, lowering and upping dinghys, etc. And, it was more fun.
Going down the river in the launcha was a delight. It was great fun to see the jungle from closer to shore than we could be in our big boats. We also got a close look at Graciella's home, near the church (that used to be pink but isn't anymore … great directions, eh?) I had daydreamed a bit about buying the place. It's a lovely traditional home, concrete with a thatched roof, and open rooms except for the bedrooms (four) and bathrooms (two). It has a lovely dock with palapa, and beautiful gardens. The price is excellent, especially since, in this country, one doesn't do mortgages. One pays the price, either all at once, or pays it out, but the price is the price. Nice! But, the house is on Ocet lease property, which is very cheap, as long as the government doesn't change its mind. Many gringos have bought here, and all we've talked to have felt it was safe, but one wonders. At any rate, we got into Livingston around lunchtime, dropped off our paperwork at the agent's office, and went to a local restaurant for a wonderful shrimp lunch. The only drawback was the smell from the lot just down the street where literally thousands of fish were laying out to dry in the sun. Yech! But, by the time lunch was over, we weren't even noticing it anymore. Lunch was delicious, but I noticed that we all got shrimp. Guess we were afraid that, if we ordered fish, the chef might run down the street to get it. After lunch we rode the launcha back to Texan Bay Marina, had showers and a nice dinner, and hit the sack. We were up and off down the river at 0630 on Tuesday, March 2nd. We crossed the sandbar at Livingston around 0830, and sailed off towards Roatan, Honduras, on a lovely WNW breeze with the sun shining and the seas light. Nicola and Noel, on Tantalus, had grins on their faces a mile wide … they really hadn't been sure they could make it this far. We have a bottle of champagne to celebrate our safe arrival in Roatan, and especially to toast their finally being able to sail again.
We were miserable, but Tantalus, was in crisis! A series of breakdowns had affected their power so that they could use only their nav lights, but no GPS, radar, nor autopilot. The seas were too rough for Nicola to hold a course, so Noel had to steer manually for hours on end. We kept praying for our autopilot ("Olga ") to hold out … and, she did. A frantic call from Tantalus, told us she had a fire aboard. It was an electrical short that, fortunately, did not burst into major flame, but did take down her engine starter and her steering. And so, she was sailing on short sail, mizzen and shortened jib, pointing as high into the wind as possible in hopes of making it into Roatan, but with no engine and limited steering. It was truly an alarming situation. We stayed in company, of course, and were prepared to tow them, or take them aboard, or do whatever was necessary to keep them safe. We radioed ahead to French Cay Harbour on Roatan, to friend Paul, aboard Serenity, and told him the situation. By the time we got near French Cay Harbour, he had assembled a small fleet of dinghys (at least ten, probably more) to meet them just offshore and tow them into the harbor. There are great pictures (below) of the rescue and securing of Tantalus. This was truly a matter of sailors helping sailors, at their best. It was thrilling and heartwarming, and a blessing for Tantalus,. In fact, one of these pictures will be showcased on the upcoming sailorsnetwork.com web site, currently in development. We have lovingly suggested that the whole thing was staged, just for this purpose.
So, around 1300 on Wednesday, March 3rd, we were all safely anchored in French Cay Harbour, Roatan, Honduras. The other members of our little flotilla, Paul aboard Serenity, Bill aboard Ketch Me, and Dave and Karen aboard Borracha, had already gotten settled into the harbor, so it seemed particularly welcoming. Lots of boats are here. Belize has gotten more and more cruiser unfriendly, so many folks are coming this way instead of going there. The dingy fleet had gotten Tantalus safely anchored, so we drove around the anchorage looking for a good place for Dream Away. It took awhile for our conservative captain to choose his spot, but when he did, it was an excellent one at the outside of the anchorage, just off two picturesque (and protective) little cays, Big French Cay and Small French Cay and a small reef. So far it has been cool and quiet here, and we have not yet dragged anchor, so seems to be an ideal spot.
Since arriving we have been ashore twice. The first time we took a taxi to Coxen Hole to check into the country. We may have to repeat part of the process as the immigration lady at the airport did not stamp our passports or give us a visa as she said we were covered because we came from a country that was also part of the CA4 (Central American Four – Guatemala, Honduras, El Salvador, and Nicaragua). However, conversation with others indicates that they all got their passport stamped and got visas, so we will try again. After checking in, we retuned to French Cay Harbour where we met John and Betty off Second Wind for lunch at … would you believe … Applebee's? A bit odd to sail all this way and eat in a very much less then local place, but they assured us it was the best quality/price and safety (food and personal) place about. And it was. They also pointed out the two grocery stores, which proved to be a dream compared with what is available in the Rio, with the exception of fresh vegetables and fruits. The Rio abounds with good, fresh, inexpensive fruits and vegetables, so we have been spoiled. Similar produce here is sparse, expensive, and of less than admirable quality. We have not yet gotten to look for other stores, but may find some.
We got in gear to do boat projects on Friday, then had a lovely curried chicken dinner aboard Tantalus that evening. A few games of BananaGrams, and we were off to bed. I think all of us were still catching up on rest from that lost on the passage. On Saturday we met again at Applebee's for a delicious rib dinner where we included John and Ivy off Ruby Slippers in the group. We stopped again at the grocery to pick up some treats for Puss, who has been without them, and none too happy with the offered replacements, then back to the boat. John and Ivy came over for dessert and a movie last night (Saturday, March 06), and here we are today, Sunday, March 07, with Jim chasing down an electrical problem and me trying to catch up on the passages log. During our undertakings there was a knock on the boat, and a local fisherman named Warren offered some beautiful, fresh red snapper. He had the lovely fish (also a Wahoo), but no filleting knife. Jim was able to come to the rescue as Stacy had given him a grand CutCo filleting knife some years ago. It has come in handy many times. We also gave Warren some gas and oil for his outboard. In return, he promised to take Jim fishing when we get around to the east end of the island.